DCM Is committed to providing our lessons with the highest safety standard and compliance possible
We understand that everyone's choices to be safe and to follow and new directives and COVID-19 Safety precautions are of high importance so we want to clarify any questions or concerns about lessons and programs with all of our clients.

We have very carefully reviewed the restrictions linked here for the next two weeks (as of Nov. 9th, 2020). As we are not included in the current restrictions, we are able to continue with our classes

We are following suite with the local schools and continuing operations and lessons with the confidence that our strict adherence to our in-house safety precautions are of the highest quality and importance to all staff and students.

We are also continuing the option to offer virtual lessons to anyone who chooses to use this form of lessons, or exhibits any sickness symptoms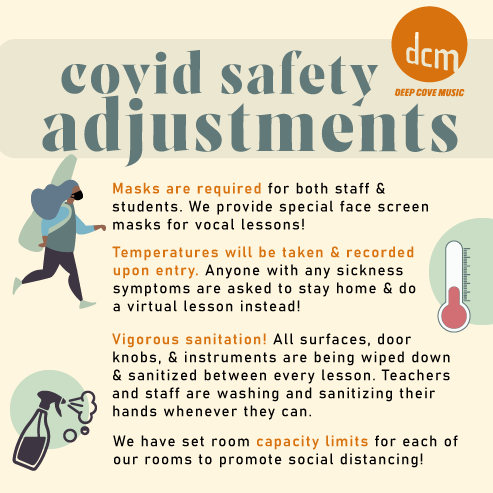 COVID-19 Safety Adjustments

We know times are tough so we have done everything in our power to make this a safe practice for everyone. Things we have done to improve the health and safety for our staff and students are:
Masks are required for both staff and students

We provide special face screen masks for vocal lessons!

Temperatures will be taken and recorded upon entry

Social distancing is being practiced and we will not allow lessons in a smaller room without consent from all parties

All surfaces, door knobs, and instruments are being wiped down and sanitized between every lesson

Teachers and staff are washing and sanitizing their hands whenever they can

We have set room capacity limits for each of our rooms
If you ever have any questions or concerns regarding our safety and health process, please let us know by emailing us below. We want everyone to feel safe so they can enjoy their short time in music instruction.